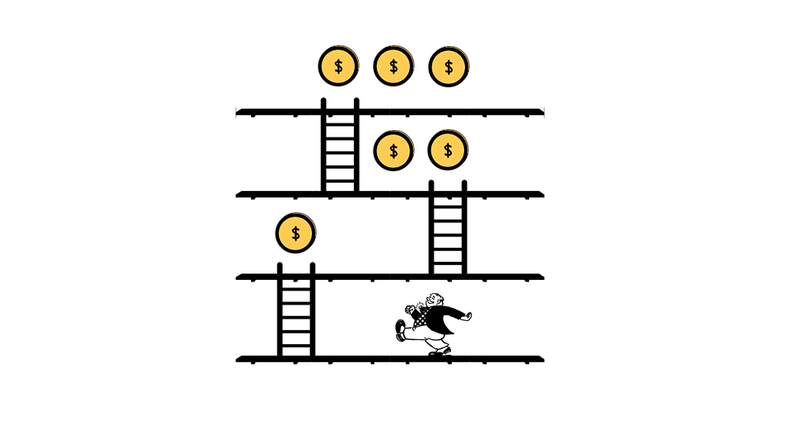 In what may seem as the distant past, but is actually just a few years ago, video gamers and casino players are two entirely different groups of people. Although you may see a handful of individuals who dabble in both pastimes, most casino players wouldn't understand how anyone could enjoy playing without the potential for gaining monetary rewards. Video gamers, on the other hand, generally considered slot machines as boring games that neither offer any challenge, nor allow them to use their skills.
Gone are those days, thanks mostly to advancements in online casino technology, which has quickly blurred the lines separating one group from the other. Gamification is now seen as one of the hottest online casino trends of 2019. A good number of online casinos has started using this approach in their special offers and rewards systems. Gamification has also started being used in a growing number of slot games. It certainly is starting to make its mark on the online gambling industry.
What Is Gamification?
In the simplest terms, gamification is the combination of video gaming and online gambling. It enables casino players to experience the multi-level trials and excitement of a video game, while still being able to play for money. It can also make casino games a lot more interesting for video gamers.
The aim of gamification is to provide players with a more fulfilling gaming experience. The premise is this: Gamification will add aspects such as flash and mobile to casino games so as to give online casinos more colour. This is meant to encourage an individual to play even more. Rewards, avatars, and leaderboards are crucial parts of gamification. They are seen as the most important tools for encouraging engagement and loyalty.
It is a bit of a challenge to answer the question as to how and when gamification began, since the trend has no real history. It is generally believed to have been born from the continued and seemingly unstoppable growth of the online gambling industry. It has been noticed that players' needs and expectations grew with the launch of each new online casino and with the growth of the market's competitiveness.
This prompted casinos to award bigger and better bonuses, until huge bonuses became the norm. A gap in the market needed to be filled, and gamification was seen as the solution that filled that gap. This isn't to say that all gamified casinos became a success. There are those that just couldn't come up with a compelling rewards system that players can consider well worth their investment in both time and money. This is why there are still casinos that hesitate to use gamificatioin on their sites. For others, though, this recent advancement has proven quite beneficial.
Types of Gamification
Gamification differs from one casino to another, but there are some common strategies currently being used to engage players and keep them playing. Let's take a look at the types of gamification you are most likely to see in many online casinos these days:
1. Goals, Adventures, and Missions
This is perhaps the most creative type of gamification currently in existence. Casinos can come up with any goal, any adventure setting, and any mission for players to complete, so there is absolutely no reason for a game to become boring. They can also come up with any reward they can think of for achieving goals and completing missions.
Goals and missions can range from reaching a certain number of points to defeating a particular villain. And for each goal reached or mission completed, a player could level up or receive prizes; some casinos even offer both level ups and prizes for the accomplishment of a mission. The stunning animations and engaging sound effects that provide the adventure setting don't hurt, either.
2. Leaderboards
Most online casinos construct their gamification around leaderboards. Perhaps the biggest reason why they prefer going this route is because the idea behind leaderboards is very simple, yet highly effective. It is even believed to be the most compelling gamification system.
Leaderboards are all about points. Simply put, the more you play, the more points you accumulate. And the more points you have, the higher you go up the leaderboard. The fulfillment of seeing yourself at the top of the leaderboard may be enough for some players, but a good number of casinos even offer bonuses and treats for reaching the top as added motivation.
3. Loyalty Points
The concept of loyalty points isn't new. It is used in grocery stores, gas stations, and even some boutiques. So it isn't really surprising that the gambling industry would see its potential as a gamification system. The premise is as follows: The more time you spend at an online casino, the more loyalty points you gain. And the more points you gain, the more perks you can enjoy.
The perks awarded for the most loyal players can vary a great deal as well. You could get Free Spins bonuses, special promo offers, or a special currency you can use in their game shops. There are even casinos that offer a special VIP membership for loyal customers. Loyalty points are the simplest ways for casinos to show their appreciation and gratitude to customers who spend a considerable amount of time and money on their sites.
4. Power Up
There are games where the character you play grows or increases power as you collect certain items. In most modern games, these collectibles can be expanding Wilds, stacked symbols, or special symbols that trigger mini games, which in turn can help the player power up. Besides the added power, this type of gamification could also come with additional bonus prizes.
5. Unlockable Content
This type of gamification is perhaps the most visible association between traditional gaming and the more modern online gaming. Instead of just moving you to the next level when you achieve a goal or complete a mission, some online casino games now have locked locations or levels, which you can only access once you've reached a certain number of points or completed a particular set of mini games.
To motivate players even more, online casinos also often offer additional perks with every piece of content you manage to unlock. Some slot games, for example, give you the ability to expand the reels a bit more with every level you unlock.
Benefits of Gamification
It may seem like all of the benefits offered by gamification is focused towards the players. After all, the system is all about providing perks, rewards, and bonuses, right? Well, the truth is that gamification also benefits the online gambling businesses in several ways. Besides, why would any business add an element to its platform if they can't get anything out of it? And how is gamification gaining popularity in the gambling industry if it has nothing to offer the businesses?
For the players, gamification makes the games even more fun. This makes them want to stick around more, and may even encourage them to try other games just to see what other perks and excitement they will find. Players also get a sense of fulfillment every time they complete a task or a mission. And, of course, there are a lot of bonuses and special prizes they could earn.
The positive experience brought about by gamification means players will spend more time at online casinos, and you know what that means for the business—better retention, more revenue, and potentially even an increase in new customers by way of word-of-mouth advertising. Players who benefit much from a casino's gamification system are likely to recommend that casino to other players.
Gamified Casinos
Gamification is designed to make gameplay more rewarding and exciting by targetting the pleasure centre of a player's brain. The various gamification techniques used by online casinos, coupled with sophisticated game designs, provides the kind of experience that truly draws in a gamer. Of course, every casino that uses these techniques, does so in their own way, and not all of them achieve the same level of success in doing so. Here are some of the best gamefied casinos currently in operation:
1. Casumo Casino
One would be remiss not to mention this casino when talking about gamification of the online gambling industry. It is widely accepted that the gamification trend in online casinos began with the launch of Casumo in 2012. Everything about this site is built on a gamification platform.
As soon as you sign up, a mascot will be assigned to you and with this mascot's help, you will get a chance to unlock valuables and move up the ranks of yellow, red, blue, purple, and black belts. There are contests to compete in, points to collect, and trophies to win.
The casino's rewards program may seem complicated, but it does work like a charm for both the casino and its players. As a gamification pioneer in the gambling industry, you can expect Casumo to offer all of the features that make an online casino a gamified business.
2. Ikibu Casino
This is another adventurous online casino, which brings you into a world of cartoon backdrops, Aztec monkeys, and ancient ruins. Launched in 2016, you can be sure of always finding a larger-than-life appeal to this casino. The name may sound like it is part of Japanese cuisine, the casino is actually a site that offers a journey akin to a combination of Casumo and another gamified casino, Rizk Casino.
Ikibu is a group of islands divided into several villages. Playing the game moves you from one village to another in the same way you'd go from one level to the next in other games. The casino comes with all the characteristics of a modern casino, but the characters in the game give it a casual and playful feel.
3. Kaboo
The brains behind this casino encourages players to move beyond the usual game playing and enter a fresh and exciting virtual universe. It uses a complete gamification approach to urge players to complete sci-fi tournaments and challenges. The graphics used on the site are sleek and modern, helping to create just the right atmosphere.
Kaboo's interface has an amazing appeal, igniting the imagination with its imagery of planets and universes. This award-winning gamification casino is truly out of this world. It features a galactic backdrop reminiscent of a futuristic war scene away from Earth. The casino has made quite an impression in the industry since it was launched in 2015.
4. Play Ojo
Launched in 2017, this casino has since gained a lot of attention, owing largely to its unique gamification model. Among other things, the operator offers a bonus of one extra spin for every £1 deposited, up to an amazing 50 free spins. They don't even have a wagering requirement for their bonuses. This operator has indeed broken new ground where innovation, functionality, rewards, and attitude are concerned.
5. Rizk Casino
This casino is an adventure-based site offering breathtaking races, competitions, challenges, and missions. It breaks the mold of the usual online casinos by incorporating gamification features like the Rizk Races and the Wheel of Rizk. The site even has its own hero--casino mogul Captain Rizk.
Captain Risk takes you on a never-ending adventure, with the best welcome offer to mark the beginning of your Risk Casino escapade. Established in 2016, Rizk Casino has quickly become one of the most successful online casinos across the globe. It not only has one of the best site designs in the market, but also one of the most visually appealing gamification models.
Gamified Slots
Slot machines have also come a long way from the beloved one-armed bandit of old. Gone are the days when slot games would ever be considered boring by any player. The slot games of today are known for providing players with truly authentic gaming experiences. Here are two of the best gamified slots currently in existence:
1. Aliens
If you think it's impossible to incorporate levels in online slots, then you had better think again. Net Entertainment (NetEnt) has managed to create a slot featuring three different levels. The Search, The Encounter, and The Hive each comes with a different goal, background, music, and features. Of course, you get a chance at better winnings when you advance to higher levels.
2. Avalon
King Arthur is a legend known by many, which is perhaps why Microgaming chose him as the focal character for this gamified slot. The game boasts well-defined graphics as well as smooth, majestic music activated by players' achievements. This immersive slot has a very clever way of using gamification strategies.
Other gamified slots from these two developers you may want to take a look at are Microgaming's Electric Dive, Gold Factory, Mega Moolah, and Stardust, as well as NetEnt's Arabian Nights, Gold Rush, Jack and the Beanstalk, and Starburst.
The Appeal of Gamification
Why does gamification have such a pull on players? Well, for one thing, if you grew up with role-playing games like Dungeons & Dragons, then you're used to gaining experience points (xp) for game accomplishments. Gamification brings the sense of achievement you get when you earn xp to the online world. If you love the rewarding feeling you get when you level up in D&D, then you'll be sure to love gamification.
It is also in our human nature to love being rewarded for achievement. Additionally, we love being able to track our progress in anything we do. These are part of what gamification has to offer, which is why the system is highly attractive to online players and even traditional casino enthusiasts.
Conclusion
You don't have to be a genius to understand that gamified casinos and slot games are way more engaging and exciting than their more traditional, un-gamified counterparts. It is also easy to see that the online gambling industry has seen significant headway in recent years. It might not be too long before we see gamified casinos and slots dominating the market.